V Orian von Salermo, SchH2, KKL1 SV HD/ED a-normal ZW 75 - DM Clear

"Orian" is a outstanding male with great character, prepared by Samantha for show and SchH. She presented Orian at the NASS show in Pomona in 2009 in the junior handler class and did very well. After the NASS Orian went to live with his permanent family in Cherry Valley, CA where he is doing very well and we get to visit with him often.
Update: We would like to congratulate Orian on obtaining his SchH2 title, his breed survey rating of KKL1 and a show rating of excellent "V" while in Germany.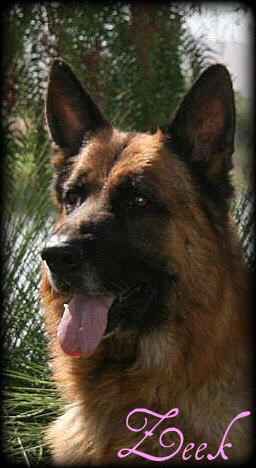 Zeek is very large with strong male characteristics he has had many accomplishments in his life as a companion show dog he has proven to be an outstanding example of the breed his lineage has some of the strongest most popular German ancestry and has proven to be one of the most versatile dogs we've seen with not only strong nerves and sound temperament he is one of the most gentle dogs we have ever had he can interact with unaltered males without aggression and still go to the field and knock a helper down. Zeek's hobbies include trail riding with the horses (and at night a wonderful guide) body surfing at the dog beach, swimming of any kind, camping and car rides to anywhere. Zeek is now enjoying his life in the OC with one of our law enforcement friends.